Laurel Cabin Flagstone
$340.00/Ton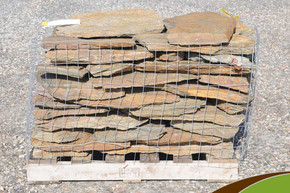 Click to Enlarge
Used for patios, stepping stones & walkways. 1 pallet covers approximately 100 - 120 square feet. A brown stone with shades of purple and a tint of green. This stone is very rough in texture with a rustic appearance.
"USES: Patios, veneers, & floors. "
"COVERAGE GUIDELINES:1 ton covers an area approximately 100-83 square feet, assuming a rock thinkness of 2 inches."
Mark did a fantastic job of delivering the palletized stone. He was able to dump them exactly where I needed them. He made my life so much easier! Thank you for the on time delivery!

David B
Inman, SC