Linda Cobb
February 26, 2010
Spartanburg Herald Journal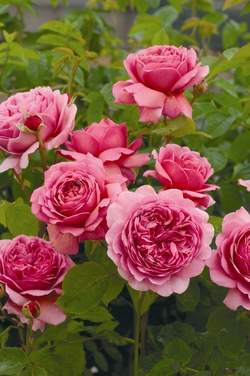 I am getting itchy trigger fingers. The birds seem unusually cheerful out there. I can feel it in my bones that spring is on its way, of course. The time is near to begin the "real" cleanup in the garden.
I have ordered my mulch this week and will spend the next week putting it out. New mulch is such an attitude adjustment. It is work, but wow, it looks so fresh and new. I will be using my usual mix of Gardener's Choice mixed with triple ground hardwood mulch that I get from Southern Mulch in Boiling Springs.
Remember that mulch does three things. It keeps the weeds out, keeps the roots cool, and keeps the moisture in. Those things are critical to your plant, shrub and tree survival. I put down 2 inches of mulch all over my garden each and every year without fail. It is the most important thing I can do for the success of my beautiful garden.
Everyone has loved their Knock Out roses from last year. I had a call from a reader who wanted to know when she should be pruning her Knock Outs. So I am giving you all fair warning. Time to prune the Knock Outs is in late February or early March, so you have to get cracking. Be merciless and trim them down in half. They will reward you for it later. Don't prune things like rhododendrons or azaleas until after they bloom.
David Austin Roses has five new roses to offer to us this year, and they are spectacular. The first rose, Princess Alexandra of Kent, is a warm, glowing pink color. But the blooms on this variety will be huge, as they are deeply cupped and full-petaled. The petal count is 130. I first saw this rose as it was introduced at Chelsea two years ago. I begged for this rose to be released here as soon as possible. Princess Alexandra of Kent grows to about 4 feet tall here.
The second new introduction is called Munstead Wood, named after Gertrude Jekyll's beloved garden where she wowed the world with her color schemes in the early 1900s. This rose is a deep velvety crimson with only 74 petals. The blooms are large and cupped at first, but then become shallow as the bloom ages. The fragrance is big and smells warm and fruity with blackberry and blueberry scents. The color of this one will dazzle you, I promise. Munstead Wood grows to about 3 feet tall.
Young Lycidas blooms are a new color introduction from David Austin, who always does this so well. They contain about 90 petals that are a blend of very deep magenta, pink, and red. The outer petals are a lighter purple. The fragrance starts out as a tea scent but then changes to a blend of tea and old rose. You can expect this shrub to be 4 feet tall.
Sir John Betejman blooms rosettes of bright, deep pink. The shrub rose carries a fragrance of "green." This is a healthy and bushy rose with an arching habit and grows to about 4 feet tall.
I have saved the best for last. Wisley 2008 is a special rose with its delicate charm. The blooms are shallow cups about 3 inches across. I feel sure they will grow larger here. With 95 petals, Wisley 2008 has a delightful fruity fragrance with a hint of raspberries, but the pure soft pink color of these blooms will be beautiful. This shrub is about 5 feet tall.
Now, I know what you are thinking. Why do I care about roses? They are too much trouble and too hard to grow, even though you like the flowers. I bring all of this up because I am a firm supporter of rose growing.
As in any gardening experience, a vase of roses in your the house is incredible. In today's world where any problem can be conquered, there is a solution to even that pesky problem. It is called Witherspoon Rose Culture. Operating since 1951 in Durham, N.C., Rhonda and David Pike offer total care for your roses. They have a total care program called "Elite Service" that will make rose growing possible, even for the most disgruntled gardener. That means that Witherspoon Rose Culture will come to your home and prune, fertilize, spray and deadhead all your roses. The approximate charge for something like this would be about $93 per month for about 20 or so roses.
Witherspoon takes care of 70,000 roses in 2,300 public and private rose gardens. They offer other services such as complete rose garden installations, creating a 16-inch deep soil foundation for a new bed or design. They have a regular route that comes to our area and it might be worth checking into if you cannot or won't take care of those pesky roses on your own.
David and Rhonda Pike can be reached at 800-643-0315 or Rhonda@witherspoonrose.com. Give them a call and check out the possibilities.