Wheat Straw
$7.50/Bale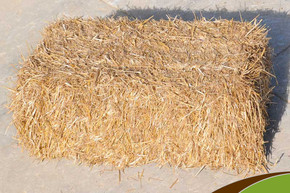 Click to Enlarge
Use wheat straw to keep vegetable gardens neat in the summer and to insulate them against the cold in the winter. Also an excellent choice when reseeding lawns. Contains much fewer weed seeds than its close relative, hay. This mulch decomposes rapidly.
USES: Ground cover. REPENISH RATE: For maximimum effectiveness add 2 inches every months.
COVERAGE GUIDELINES:1 bale covers an area approximately 80-73 square feet to a recomended depth of 2 inches.
We love how our flower beds look...have had several people ask us where we got the pine straw so hopefully you will get some orders because of how beautiful our yard looks!! Thank you so much, and we will look forward to ordering from you again!

Mike S
Greer, SC