Laurel Cabin Thin Veneer
$209.00/Ton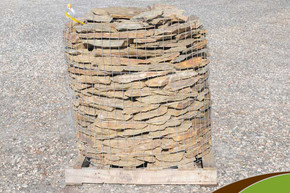 Click to Enlarge
Ideal for Veneer or Flat stack walls. 1in. to 2in. thickness with a face width of 6in. - 24in.. A brown stone with shades of purple and a tint of green.This stone is very rough in texture with a rustic appearance.
USES: Stacked walls & veneers.
"COVERAGE GUIDELINES:1 ton will build a stacked wall that covers an area approximately 40-32 square feet.1 ton covers an area approximately 100-91 square feet, assuming a rock thinkness of 2 inches."
Brandon Deal placed my rocks just right. He and Mark took their time and did not mess up my garden doing it! Your people are wonderful!

Linda C
Spartanburg, SC